Thank you for your interest in exchanging links with The Shining Source! This page should help you find out what we look for when linking with other sites. If you are interested in swapping links, please send us an email with your site name, URL and a few details.
We're always on the look out for other sites to link with, so if you have an RPG or game development themed website we'd love to hear from you. We welcome links from all kinds of websites, so even if you don't fit into those groups we're still interested. As long as you're not a porno/warez site, we're listening!
Once you've got in touch, we'll email you back as soon as we can. If we like what we see then we'll add you to our list. All we ask in return is that you link to us, so we can all share the love.
Linking to Us
Below is a selection of link images that you can use to link to us. If you've made your own, feel free to send them to us and we'll put them on this page with full credit given.
Images by Edgemaster


Fancy looking banner, if an odd size. Best used on black backgrounds.


Cool little button.
Images by Devlyn


This image is best suited to light coloured backgrounds.


This image is best suited to dark coloured backgrounds.


And here's a more recent (and decent looking) banner.
Two buttons, one for dark backgrounds and one for light.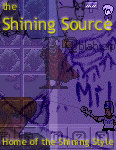 Image used on Shining Force Central to advertise us.
Images by Ty


A stupid banner made to make fun of those hideous flashing banners.


A simple tiny button.


Another simple button, made for white backgrounds.
Images by Newts


A cute button featuring various cute sprites!
Many project buttons!