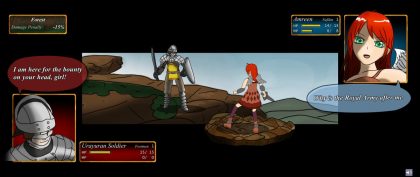 You might remember news of Project Nekoforce back in December of last year. Now it has a name: "Amreen: Instrument of Revolution". Even better, there's a playable prototype available!
The project's author, Doh042, shared some details over at Shining Force Central:
For those who haven't read about it before, it's a 2D strategy RPG paying homage mostly to Camelot's Shining Force series. It has a very JRPG look to it, and this is the fruit of probably 400-500 man hours for a 2-man crew for the last 3 months. The build features 1 combat map and 1 city map. There are 5 very different characters in the player's group, fighting against 3 different enemy units. You have access to 4 spells and 3 different items.

We plan to keep updating the prototype a little (mostly bug fixes based on people's feedback, if we get any!), and there's a few things we have left on a wishlist that may or may not make the cut for future release/builds. (Art update, actually having villagers/npcs in the city, etc.)

After that dust settles, we'll start planning the Vertical Slice, which should feature a few hours of gameplay (roughly 4-5 battles, 3 exploration areas, 16 or so player characters with all their spells and a dozen enemy types).
Be sure to give the demo a try and leave some feedback!
Download Amreen: Instrument of Revolution
---
Source: Shining Force Central – Amreen: Instrument of Revolution Prototype Released