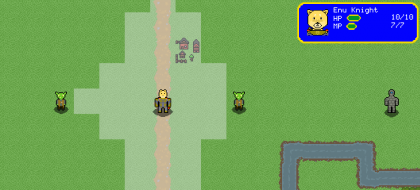 DrEthan dropped by Ye Olde Blah to spread a little extra cheer for the holidays – a new demo of Kings of Ember!
Hello everyone, happy holidays! I just updated my game on GameJolt and I decided to post a summary here! So here is a list of changes (this is usually called a change list)

Added attack animation for Enu Knight casting magic.
Redid the inventory menu so that it is now a scroll rect and you can see the stats of the items.
Added death animations for the Goblin and the Brick Man.
Removed the black outline for the villager eyes and nose.
Made the villager's pupils be in the center of the eye instead of them being cross-eyed.
Implemented walls, art on the walls, windows on the walls, door, and a countertop.

Read the whole change list here https://gamejolt.com/games/KingsofEmber/201483/devlog

Have a good time with your family and friends, and if you have comments or suggestions please post them down below. Bye!
– DrEthan
The new demo is available on the Kings of Ember project page at Game Jolt. Go try it out!