It's always exciting to see new Shining-style projects appear! DrEthan recently contacted me to let me know about his project, Kings of Ember. It's been under development for around a year now, and there are playable demos available for Windows, Mac and Linux.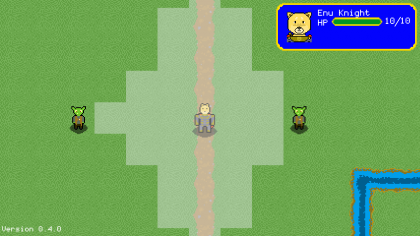 As you can see from the above screenshot, the game already features a working Shining-style battle system. The demo also contains a little town area to explore and some NPC's to chat with.
Word of advice: the demo gives you some different weapons in your inventory, so be sure to equip them to help with defeating the brick golem.
You can find out more information and download the demo on the Kings of Ember project page at Game Jolt.
You can also leave feedback in the Kings of Ember forum topic.